Old News


FragFest'99 LAN - CANCELLED!! - Mopar
I just got this email from the organizer of the FragFest'99 lan party:

Things were going well with FragFest99. We have a growing list of players, the servers (4 of them and more coming), were set with Quake, Quake World, Rocket Arena, QuakeII CTF and Action QuakeII.

We have lined up a load of 10/100mps switches for truly fast game play. The food was set the beer was arranged. We have several sponsors helping out. All was well.

We went to the site to check out the power conditions (circuit breakers, outlets and so on).

Well now it seems that our gaming session was not "appropriate" for their hall and we were given a refund for our deposit and left stunned and bewildered.

Our plans are now to search for a new hall, we will e-mail each registered player about the changes and return all the payments for registration.

Look for follow up email on this.
Scott Presson

Sooo....looks like this lan at the very least postponed until a new location/date can be arranged. Too bad. I sure hope they can find another location. I'll post any other news I hear as soon as I hear it.




LAN Parties In The News - Mopar
NJQuake's "Official Network Guy" Mars (aka Mark Dezura), was interviewed for an article that appeared in the March 1, 1999 edition of The Baltimore Sun.
You can read the article online here.



Thursday, February 18, 1999


Cool New Web Site! - Mopar
Ok, there is a brand-spanking new website opening up for all of you that enjoy teamplay oriented games. Its called Teamplay.net, and you heard about it HERE 1st!
Make sure you have ShockWave before you go there though, or your gonna miss one very cool intro! Pure and simple, Teamplay.net intends to be your one stop shop for all your gaming needs, be it CTF, TF, TRIBES, or what have you. This isn't just a website, this is a regular online community.
While the actual site doesn't open until April 1, 1999 (And no, this isn't an April Fool's Day prank!), you CAN register your handle there now.



Tuesday, February 16, 1999


Norfolk, Va LAN Party - Mopar
Yeah, I KNOW this is NJQuake, not VAQuake, but I know alot of you guys that come to our LAN parties are in the MD/DC/VA area, and even from parts of NJ, Norfolk is only a few hr. drive. So here is some info on a LAN going down at the Norfolk Naval Base, courtesy of Ouch, the webmaster over at Time2Quake:
"The LAN Meeting went down pretty smooth. We will start a work
up for a date possible, weekend after Easter. The party will
probably consist of 50 people max. More to come as we can get
it. Any inputs would be greatly appreciated." - Ouch

New IRC Network - Mopar
Well, this isn't "news" to all the regulars that hang out in IRC channel #NJQuake, but I should mention it.
NJQuake.com's Official IRC Channel has moved from GamesNet, to GameNode.
Just add "irc.gamenode.net" to your server list in your fav IRC program (I recommend mIRC). Or, just select IRC from the menu on your left. Once your there, join channel #NJQuake.
In case your wondering WHY me moved from the popular GamesNet IRC network to GameNode, there were several reasons.


Most people don't seem to know this, but the majority of the GameNode servers WERE Gamesnet! All But 2 Left to form GameNode.

Gamesnet is a very unstable network, subject to way more netsplits and problems then normal. GameNode, has been rock-solid.

Channel Services. Gamesnet's have worked for a total of maybe 3 weeks since its inception. Again, GameNode's services have been 100% reliable.

Administration. A network's "personality", if you can call it that, is based on the people that admin it. Anyone who has ever dealt with a power-crazed IRCop on Gamesnet can understand the move.

Support. until recently, Gamesnet's #support channel was "invite only"! GameNode's support staff has been prompt and friendly with any questions I have had. Even followed up to make sure things were ok.

So, taking all these things in to account, the decision to leave Gamesnet was still hard. It has been our home for the last 2 years, and is by far the largest IRC network exclusively for gamers. Well, the events of the last few days have proved we did the right thing.
We left our old channelbot, NJQ, behind at Gamesnet. Since GameNode has working channel services, he really isn't needed there. Also, by staying on our old Gamesnet channel, it could inform people of our move to GameNode.
I guess the childish IRCops at Gamesnet have a problem with this. They regularly "take over the channel", something that would get a normal user banned for even attempting. Then they mark the channel as "secret". What this means it it doesn't show up in the channel listings. If you don't KNOW the channel is there, you can't find it. The main reason for this is to keep other users from seeing our message about moving to GameNode, I would guess. If this is the maturity level of the people running Gamesnet, I'm glad we switched.



Wednesday, February 10, 1999


Happy Birthday To Me - Mopar
Yeah, yeah, yea, big deal. So, how old am I you ask? Lets just say that I've had one of my email addresses for about 17 years now :).
Oh now that THAT'S out of the way......lets see what's going on around here......

FragFest'99 Date Change - Mopar
Seems like the man behind FragFest'99 works for ol' Uncle Sam, and they have a little mission for him that conflicts with the date of FragFest'99. (Sounds like top secret spy junk to me....). Well, when you run the party, you get to change the date if you can't make it.
The NEW date is March 27 and 28, 1999. Make sure you go sign up NOW.

North Jersey LAN coming! - Mopar
Ya know, every time we do a NJQ LAN event, someone ALWAYS says: "I really WANT to go, but I live in North Jersey, and South Jersey is just too far!". Guess what? The guys that drive 6-10 hours to attend a NJQ lan are pointing to you and laughing because of all the fun you've missed!
Well, stop your cryin', 'cause we've got a LAN for you. I hope. <RANT> You see, we found a place. We picked a date. We RESERVED the hall. A day or 2 later the hall calls back and CANCELS our reservation! Here's where I'm confused. The reason for it is 'we really don't understand computers and all that lan/gaming stuff'. Uhmmm...ok, this place holds heavy metal concerts. This place has a bar. This place is afraid of QUAKE??? </RANT>
Oh well, we ARE checking out other places in the area, and there WILL (hopefully) be a North Jersey lan in the few months. Hey, gonna need a warmup for the HUGE NJQ ]I[ lanparty/BBQ this summer!!! Stay tuned....

Clan Yeknom Tribe LAN - Feb. 20th - Mopar
Since FragFest99 got pushed back a month, you might need a little LAN to hold you over. Clan Yeknom Tribe might have just what ya need. A nice homey LAN party in Cherry Hill, NJ.
The main event is Saturday, Feb. 20th, with a few hrs setup/warmup Friday night (no overnight!). Looks like they have room for about 15 people. Maybe I'll go check it out myself. Nice little cozy lanparty, like in the old days.

Lan Party Pictures - Mopar
In case ya haven't noticed, there are a couple of new items in the menu to your left. One of them says "Lan Pics". Guess what you'll see if you click it?
Anyone holding out on any pics from a NJQ lanparty, lemme know and I'll add them. BTW, I also posted the "lost NJQ I pics". Still gotta resize/thumbnail them and stuff, but they're there if ya wanna look.



Tuesday, January 26, 1999


Another LAN! (Already!) - Mopar
No, it's NOT NJQ]I[ yet (although that IS already in the planning stages!), but it is another weekend-long bash in south Jersey!
This lan party is called FragFest 99, and is being hosted by the folks over at Creative Computing Services.
It's gonna be held Feb.20-21, in Ferrell, NJ (near Glassboro, and Turnpike exit 2). I'm telling ya, CHECK IT OUT! Matrix and I are going, and probably the #njquake peanut gallery (hey, I lub you guys!) as well.
Remember, this is not an NJQuake hosted event, so please, refer all questions to sspnj@hotmail.com
Ya know something? It's gonna feel GREAT to go to a lan party and PLAY instead of work all weekend! Whooo hoooo!


Lan Party - The day after - Mopar
OK, First I want to thank all of you who braved the worst snow storm in 3 years to attend our Lan.
I also want to thank, once again, the guys over at Cyberplant. Not only did they come out in the middle of the storm to help set up, But they brought a big ol' van full of computer equipment with them to boot. You guys are the best! Check them out if you want to play on their T1 internet connection. They also have great deals on hardware and software, just tell 'em NJ Quake sent ya!

Lan Party Pictures - Mopar
I've started posting pictures from the NJQ2 lan party. You can check them out HERE.
If anyone else has any pictures from the lan, I'll be happy to add them to the page. Just let me know.



Friday, January 8, 1999 - LAST MINUTE LAN NEWS!


LAST MINUTE NEWS!Mopar
OK, I'm gonna be packing up all the 'puters here pretty soon, so if you email me a question about the Lan party, I'm not gonna get it until after it's over.
If you think it's IMPORTANT, call the phone number you were given in the email yesterday for directions. If it's not that big a deal, we'll try and help ya out when you arrive. See you all there, drive safe!



Friday, January 8, 1999 - LAN PARTY STARTS TODAY!


The Day Is Here!!! - Mopar
You guys and gals know what today is don't you? Thats right, National Pitcher Plant Day!! (It's sorta like a Venus Flytrap, only hungrier!)
Oh yea, it's also the beginning of NJQuake.com's 2nd weekend long Lan party! Well, it looks like Old Man Winter is gonna deliver a mixed bag of tricks to us this weekend. Here's the latest weather forecast for the area:
Snow Will Begin Friday Morning And Continue Into Early Friday Afternoon. An Accumulation Of 1 To 3 Inches Of Snow Is Expected Before A Changeover To Sleet And Freezing Rain During The Early Afternoon Hours. Just Plain Rain Is Expected By Mid-Afternoon. The Shallow Snowpack Will Become Slushy During The Early Afternoon Hours After Precipitation Changes Its Form And Will Eventually Melt Away As Rain Continues Overnight And Saturday.
This is GREAT for me, because Mopar makes lotsa buckeroonies plowing the white crap out of parking lots. It sucks, because well, it's gonna be a wet slushy mess by the time we head over to the party :(
Everybody, please drive safe, but DRIVE! Its all gonna wash away Friday night, and who wants to sit home this weekend watching the raindrops when you can be Quakin' on our LAN?
Hope to see you all there, Mopar out.


PC Rentals List - Mopar
Happy Fraggin' New Year! Hope you all were safe and at least semi-sober for the birth of a new year. OK, I made up a list of all the people that wanted to rent PC's for the NJQ lan party. I have the nagging feeling that I've left someone off the list. All the people that emailed me from the link provided in the earlier news update are on the list. I THINK I might have forgot someone who mentioned it to me in IRC or something. The list I have so far can be found HERE. If you asked or emailed me about renting a PC for lan and are NOT on list, please LET ME KNOW ASAP!



Friday, December 25, 1998 Christmas!


Merry Christmas! - Mopar
No real news, just wanted to wish everyone a very merry Christmas from myself and the staff here at NJQuake. Hope you are all spending the day with your loved ones, pigging out on cookies, and getting all fat and slow so I will be able to kick all your butts in 2 weeks at the lan party! :)
I got Half Life for Christmas (among other cool things) so NOW we can play that at the party as well.



Tuesday, December 22, 1998


Lan Party Signups Now Closed - Mopar
Yup, We have reached capacity for the 2nd NJQ Lan Party. If you didn't sign up yet........what were ya waiting for? Anybody that is interested in being on a WAITING LIST can email us at the usual lanparty@njquake.com address. Any open seats will be handed out on a "1st come-1st served" basis.
Once again, I'd like to ask if you HAVE signed up already and can no longer attend to please let us know. Click that lanparty@njquake.com email address so we can give your seat to someone on the waiting list.

PC Rental Reminder - Mopar
Don't forget: if you are coming to the lan party and don't want to drag your computer system here, we still have a few systems for rent that weekend. Scroll down to the Dec. 17th news for more details.





Friday, December 18, 1998


LAN Party Signups Almost FULL!! - Mopar
There are only a few seats left at the big NJQuake.com lanparty. Please, PLEASE, if you have already signed up for the lanparty, and for whatever reason are no longer able to attend, please email us at lanparty@njquake.com.
There are only so many seats to go around, and lots of people that are willing to take your spot if you aren't coming. Thanx!



Thursday, December 17, 1998


LAN Party PC Rentals - Mopar
We will have a limited number of computer systems available to rent at the NJQ lan party Jan. 8-10. These will be AT LEAST PII233 systems with 17" monitors and all your favorite games, courtesy of our friends over at Cyberplant. The cost of the rental will be $25 (in addition to the $25 lan party admission), and will be allocated on a first come, first served basis.
To reserve one, send mail to lanparty@njquake.com



Thursday, December 3, 1998


LAN PARTY SIGNUPS ARE OPEN! - Mopar
....FINALLY! I think the title pretty much says it all, don't you? Click on the Lan Party button to signup for NJQ2.
The Lan will be held the weekend of Jan. 8-10, 1999 and the cost is $25. I believe this time we will have a few systems available to RENT, if you don't want to lug yours to West Deptford, NJ. I still need to iron out all the details yet, when I do I will post the info here.



Thursday, Nov. 26, 1998 Happy Thanksgiving Day!


It's ALIVE!! - Mopar
Yes, that's right, MOPAR LIVES! 1st, I'd like to thank Matrix for helping out with the updates here. As some of you know, my housing situation has been, and still is, MAJORLY messed up!
(Reader's Digest Condensed Version: Major snafus moving into new house. STILL not ready yet, more then 4 months after it was supposed to be done. Old house has been sold already. Mopar stays at friend's places, with 2 cardboard boxes and his laptop. Gets online whenever he can bum a phoneline. Nice life. No quake.)

ANYWAY....... plans are going well so far for the next NJQuake lan party. The date has been set at Jan. 8-10, 1999. This way all of us who didn't get the invite to the new, leaner, meaner, DC-Con 5 still get to attend a party that weekend.
As of right now, it looks like we will have a few PC's for rent that weekend, more details to follow.

Signup page is pretty much ready to go, just waiting on a few detail. Registration for NJQ2 should be open sometime this weekend, so check back often.



!!!HALF-LIFE is a must BUY!!! - Matrix
Well if you don't know anything about this game, all I have to say is "Where have you been?". If you play first person shooters go buy this game now!! I just updated my home puter to a Celeron 300A running @ 450 MHz STABLE. Also got a Creative Blaster TNT. This is a sweet card. Stepping up from a Voodoo 1, I am really impressed. Everything runs smooth @ 800 x 640 resolution. I would recommending to anyone looking for a cost effective 2/D & 3/D solution. And for a price of $115 you can't beat it..


Cyberplant Half-Life Launch party - Matrix
Seems our friends over at Cyberplant are having a Half-Life launch party on November 19-22. Can't tell you many details now, but I'll keep ya updated. So for all you slugs bugging me for a lan, check out the Cyberplant. It a Groovy place with T1 access, and you might not even have to bring your own computer. What more could ya want?


NJ Quake Lan ][ -So I Lied - Matrix
Sorry for the lack of Updates but I've been really sick. Everybody been bugging me about the Lan party. Turns out the first set of dates wasn't good for all the college kiddies out there. So now were are working on Jan. 8,9,10. This date is NOT confirmed. The guy with the reservation book is MIA.. So as soon as it confirmed, I'll post here, in IRC, and email everybody that came to the last one. Thanks for your patience guys.. Let makes this one twice as better as the first..


NJ Quake Lan ][ Date By This Weekend-I promise - Matrix
This is not Definite, but it looks like December 18,19,20. I will post the dates Saturday night. Not much to tell you folks about today. Blue's News and Redwood'sboth put up their previews of Quake 3 Arena. Sounds pretty dam cool if you ask me. One more thing, there was this bad ass RPG I used to play in college. I just found out today there making a computer game out of it. Well if they do it justice, look out for one kick-ass game. Werewolf: The Apocalypse..


Blood 2 Demo & BF Comm. - Matrix
I downloaded the Blood 2 demo last night. Let me warn you if you don't have a high end PC it's gonna be choppy. I found it to be an interesting little game. I enjoy any game where I can go around and slice the throats of guys in lab coats. The graphics look good, but I really enjoyed the random yelling and screaming. Kinda looks like a Half-Life rip off if you ask me. Here's a neat little game utility called Battlefield Communicator. This little program lets you talk to your buddies while playing you favorite game. It just came out of beta, although my copy of the beta worked fine. It has good compression for the few of you that are sill on modems :p. Check it out.


Matrix added to News Updates - Matrix
My Birthday Present Comes Early :P
I like to give thanks to Qlurker for adding me to the News updating crew. I'll do my best to put some good stuff up here for you guys. Two quick thing I wanna cover today aren't really Quake related. First is a little game called Rainbow Six. All I have to say is give it a try you might like it. Secondly, for those of you in need of a new puter. You should seriously look in to getting a P2-300Mhz. The one thing you wanna make sure is that you request the SL2W8 stepping. This thing is basically a P2-450 MHz. If your supplier is really cool, try getting it with 4.5 ns L2 cache. Stay away from the 5.5 ns L2 cache. Finally, yes it's Quake related, The NJ Quake Lan. As soon as Mopar and myself set up some type of communications, Will give you guys a date. Don't worry about sending in your check this time, just bring it to the door with you. Email lanparty@njquake.com with you suggestions.


Next NJQ Lan Party - Dec!!! - Mopar
"Real Life" strikes again :(
Sorry for the lack of updates, but I am sorta caught in the middle of moving, and haven't had a real phone for weeks. (anyone have a clue how I can make my Nokia 2160i cell phone work with my IBM Thinkpad 600???)
ANYWAY....... The next big NJQ lan party is being planned for December sometime. Like the last one, it will be an all weekend affair held in West Deptford, NJ. We would be interested in hearing from some of the people still in school, what weekend would be best? We want to allow the greatest amount of people to attend, so we would like to work it for winter recess, ect. Email lanparty@njquake.com with you suggestions.


Cool Trick - Qlurker
For all of you folks out there using Internet Explorer here is a nice tip to get you even more involved with New Jersey Quake. This puts our web page right on your desktop. Simply Add this page to your Favorites. Then Right-Click on your desktop and go to properties. Then go to the Web tab, and click on New. Go to Browse and select the New Jersey Quake.url file. Then click OK and your set to go.

Upcoming LAN PArties @ Cyberplant - Mopar
Sept. 5th: LAN Party for Starcraft.
Sept. 19th: The the Cyberplant team will be competing with other CyberCafe's in the area, so if you're a QII player, hop in. If the store wins, the best players will get prizes.
Both events will take place at the Cyberplant in beautiful Hammonton, NJ. Signups and directions may be found on their web page.

PS. CLICK THE BANNER UP TOP!!!!! :)

Saturday, August 22, 1998


Lack of Updates - Qlurker
Well if things seem to have dried up around here, they have. I have been working lots of hours lately and I have had a run in with the CIH virus at home. McAffee Anti-Virus was running for weeks while I had it, and did not say a thing. Yes I had the latest one. IBM Anti-Virus picked it up but EZ-Bios would not let me run it in DOS so I had to do the old reformat. Word of advice out there to people that are having problems with slow execution of programs, or corrupt headers in executable zips, get a new virus program.

Banner Ads - Qlurker
Well some of you may ask why we have the banner ad. Simple, to make money. We try to get as much free stuff as possible, but its hard. The plans for the money we make our to pay for internic charges, and hopefully make enough money to get our own server. Then we can start hosting sites here at njquake.com more efficiently and a lot easier. If you would like to donate parts, or a full machine, please email me, qlurker@njquake.com, and I will get back to immediatly. Also money will gladly be excepted. We are not looking for anything extremely fast, just something that will run http, ftp, and email things, and if it is fast, a Quake server. So drop me a line if you can help us out in any way. Also click on our sponsors and help us out through that.



Saturday, August 15, 1998


STILL ALIVE! (barely) - Mopar
Ok, sorry about the lack of updates last few weeks, but it's that old REAL LIFE problem that strikes webmasters from time to time. As if you care, I haven't been home from work before 9:30-11pm last few weeks. I Come home. Walk dog. Shower. Eat (maybe). Sleep. Repeat next day.
ANYWAY, the NJQ Lanparty was a HUGE success. Results and pictures will be posted soon on the LANPARTY page, I swear. I also want to thank (again) Neal an Nelson, the father/son team over at Cyberplant for helping us out.

FragHarvest - Mopar
Looks like the Clan Bong Boyz(Agressor and RockerAOL, uhm, I mean RockerNJ) have teamed up with Cyberplant for a monthly LAN event to be called FragHarvest.
There are a few really cool things about Fragharvest. 1st, there will be a FragHarvest North held in North Jersey and a FragHarvest South held in (can you guess?) South Jersey. They will not be on the same weekends, so those of us that are willing to travel for a little Frag Harvesting action can attend both if you like. 2nd, the South party, to be held at Cyberplant, will feature T1 access and a tourney where theCyberplant team will compete against other cybercafes around the country! This should be VERY cool! The first South party, is taking place right now! I wish I was there. If you are in the area of Hammonton, NJ, Stop on down. The North party will be held August 22, 1998 in Wallington, NJ.
BTW, look for the FragHarvest Home Page right here at njquake.com real soon.


NJQ Lan Sign Ups - CLOSED! - Mopar
Thats right, you read it right. We have reached the amount of people we feel we can handle without any major power problems.
PLEASE, if for some reason you signed up and can no longer attend, e-mail us so that we can free up the seat for someone who can attend.

ALSO, if you have mailed your check to matrix, and are NOT as yet marked "paid" on the list, e-mail Matrix and ask.


NJQ Lan Party info - The Countdown Continues - Mopar
Only THREE more days until the big NJQ Lan Party! If you haven't sent in your money yet, SHAME ON YOU! It's probably too late to mail it now. Just bring the $25 with you. Remember, only those that have actually PAID have been guaranteed a seat. After that, it's 1st come, 1st fragged, I mean 1st SERVED, until we run out of power.


Sin Demo - Qlurker
Amazing! By far one of the coolest games to date. If you have not already gotten it you must check this out. Its the look of Quake but better, with the humor of Duke, just funnier. Throw in a few puzzles, and you got the coolest game, sIn. With the recent virus scare over the weekend I recommend getting it direct from Ritual's, ftp or http.

Advertising - Qlurker
I am trying to find some banner advertising that NJ Quake can get involved with to make money directly to benefit the organization. The money will go to funding events, domain fees, and hopefully getting us a dedicated machine we can run this on, and a Quake server if its fast enough. Please email me if you know of, or are part of banner advertising company.


Holy LAN Party, Batman! - Mopar
WOW! This just in to the NJQuake newsdesk:(OK, its been here awhile, but I'm just getting a chance to update the page, ok?)
There is going to be an end of summer bash at the Jersey shore on Labor Day weekend. The lan party will be in Belmar, NJ, one block from the beach, and will have T1 access. This location is capable of supporting 150-200 people. More details as they become available.


NJQ Lan Party - Mopar
Well, the big NJQ lan party is now less then 2 weeks away, whooo hooo! Just a few reminders:
If you haven't signed up yet, what are you waiting for? Your NOT gonna find another lan party this big this close to home this summer!
If you have already signed up, GREAT! Have you mailed your check to Matrix yet?
Any and all LANPARTY related questions you may have should be directed to lanparty@njquake.com

Cyberplant Lan Party - Mopar
First, I just want to personally thank the father/son team of Neal and Nelson Brown, over at The Cyberplant for bailing out the July 18 Bong Lan Party at the very last minute. When Bong lost the use of the planned location, these guys jumped right in, and not only provided us with a great (air-conditioned) place to play, but access to their lightning-fast T1 line and quake servers, and PII-233 computers and 17" monitors for those who came with slower or smaller. I think everyone there left with a t-shirt, a hat, a CD or all of the above as well. As a matter of fact, Nelson tells me that they would like to make this a monthly event! When the dates are set, you'll see it here first. NJ truly is the LAN state. If you are anywhere near Hammonton, NJ, be sure to check these guys out. Tell 'em NJQuake.com sent ya, and maybe Neal will run out for munchies while you play :)


Last Minute Bong LAN Party Info - Mopar
Those of you going to the Clan Bong lan party (or would LIKE to...) July 18th, you NEED to check out the web page. Seems there was a last minute change of location.


Pure3d - Qlurker
For all of you lucky folks who own a Pure3D card, there are new drivers up on Canopus's Pure3D Site. Check it out, some new quality features added to the software end. If you do not have one, or plain on upgrading to a VooDoo 2 card, stop by to check out the kickin Pure3D 2 card. If I had the money I would own one by now.

Netscape - Qlurker
Preview 1 of the new Netscape Communicator 4.5 is out on the Netscape ftp site.


Happy Birthday njquake.com! - Mopar
Almost forgot, last week njquake.com turned 1 year old! While we had actually been around for a little while before that (hosted on Nitro's personal homepage) our real growth started with our own domain name. Here, for old times sake, is the tiny blurb on Blues News (July 11, 1997, Movements) announcing our move.


New Design - Qlurker
After many nights and days of always wanting to change the look of the main page here, I actually did something about it. This will lead to more updates, newer design for more of the site, and more! If you have any suggestions, comments, or just like to drop me a line, email webmaster@njquake.com.

Lan Party - Qlurker
The Official New Jersey Lan Party is getting closer and closer. If you have not already signed up head over to the LanParty Page and sign up soldier.


Size DOES Count......

......And this is the big one!

Signups are now open for the NJ Quake summer bash! This is it, boys and girls. The one you've been waiting for. 3 days of Fun Filled Fraggin'! (maybe we should call it "F3"??) It will take place Friday, July 31, 1998 thru Sunday, Aug 2, 1998. It will cost you $25 for the weekend, and will take place in West Deptford, NJ.

For more info and to sign up, check out the NJQ LAN Party Page

- Mopar



MORE Lan Party stuff!!!

There will be another LAN Sat July 25 in Morgantown, Pa. It should be a blast! They would like to get twice the number of people as last time!(24+) They may need that many to get the big room again at the same price. If everyone would just find someone who did not come last time we would be set. Please try to confirm either this week or next. Email Dactylus for comfirmation or more info and directions.




The Bong East Lan near Rutherford, NJ is now monthly. Next one is July 18th. Go to >HERE< for more info.

- Mopar



South Jersey Lan Party

For More information on the South Jersey Lan Party that is being run mainly by Matr|x please visit http://www.njquake.com/lanparty/

- Qlurk3r


Servers Updated

Thanx for all of the input so far for the Servers Page. Please keep the information coming into servers@njquake.com and they will be continued to be added to the page. I run into one problem. Some do not have complete information. Please include with the server IP:PORT (Q1,Q2,QW) (DM,CTF,RA,CLANRING) or whatever else necassary to inform the user. Thank you.

- Qlurk3r



Servers

After all the requests I have been getting I finally took time to start a Servers Page. Please send information on any Quake Servers that you know of that are in New Jersey to servers@njquake.com and they will be added to the page.

- Qlurk3r



*MORE* LAN parties!

WOW, more LAN party news.
1st: There is a small LAN party this weekend (5/30/98) happening in Morgantown, PA.
There are a few more spots open, so if you are willing to travel to Pa, and want to go, email Matrix ASAP!

2nd: There is a LAN party planned for June 20, 1998 in Wallington, NJ (Near Rutherford). This is not the "official" NJQ one still being planned for later this summer.
It's being hosted by Clan Bong, and should handle about 30-40 people. This is a nice friendly sized LAN, and if all goes well, it will become a monthly event.
There is a web page to signup for this lan >HERE<.

- Mopar



New Jersey Quake Servers

Daren wrote to me about some Quake Servers he has been running for awhile now. We currently do not have a server page for New Jersey Quake Servers, but it seems it has been a popular request. So until one is made try these:

Quake at 205.197.242.62:26000
Artifact Quake at 205.197.242.62:26001

- Qlurker


NJQuake LAN Party Coming!!!!

ITS COMING! We have found a location for the 1st "Official" NJQ Lan Party!
It will be located in West Deptford, NJ (near Phili). We are looking at mid-July, early Aug. for the date.
Right now what we are looking for is a rough headcount(we can handle about 75 people max!) not a definate commitment right now.
Also, if you would like to volunteer to help with tourneys or prize sponsors, let us know as well :)
Click here to send us mail--> YES! I WANNA LAN PARTY!

- Mopar


Fun Fact of the Day

Recieved this nice little photograph from a friend today. Thought I would share it with you folks out there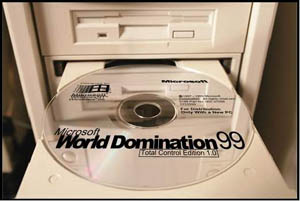 - Qlurk3r

PA GibFest III, The Results
OK, the moment you have ALL been waiting for, the results of the NJ vs PA CTF match!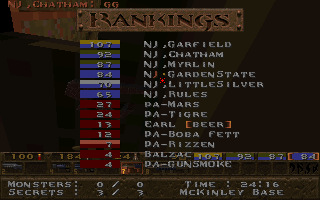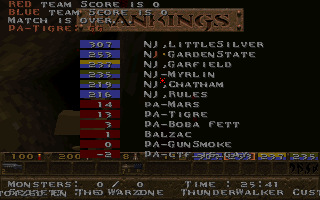 Now, to be fair about it, some of the PA players claimed to be better DeathMatchers then CTF'ers,
so the Garden State Guys decided to try a little DM, just to see if they liked it. Here's what happened when they did: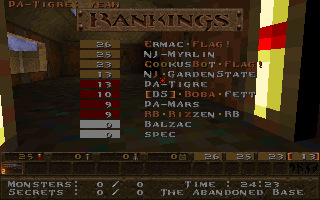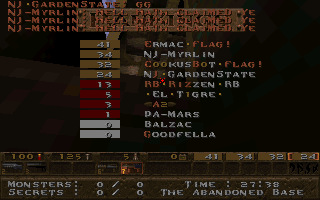 OK. All trash talking and joking aside. We would like to thank Mars, the Mayerson Law Offices, and the Pa Quakers themselves for hosting a great lan party (AGAIN!). We had a great time, saw some old friends, and maybe made a few new ones. Hopefully the next time NJQuake will be doing the hosting!
- Mopar

PA GibFest III, Directions and Last Minute News
Directions PA Gibfest III from most parts of NJ can be found here.
Date: Thu, 12 Mar 1998 11:19:57 -0500
From: "Mark Dezura" mark.dezura@mayerson.com
It is now less the 48 hours till Gib Fest III. Please remember to bring network cable (RJ-45 jacks), power strips, extension cord,
and drivers for your network card. If you are lost and need help the number is (610) 948-4801.
Doors will open 10 am Saturday morning.
If you are not coming please let me know ASAP.
Due to the size of the event this time we will be using the upstairs too.People on the upstairs will want to park in the back to bring
in their computers. I decided to put the NJ group upstairs (so I do not have to hear all there trash talking and whining. hehehehe)
VERY IMPORTANT!!!! We are having this at my place of business. My boss is kind enough to allow me to have this event.
Please do not abuse the office. I would like to keep my job and keep having the Gib Fest LAN parties.
Mark Dezura aka Mars
mars@the-red-planet.com
- Mopar

Sunday, February 22, 1998
LAN Party
There are still a few seats left for the PA-Gibfest III happening March 14, 1998 in Spring City, PA.
This is a 1-2hr drive for most NJ Quakers, and it is one of the better mid-sized LAN events.
The headline event will be a NJ-vs-PA CTF tourney. NJ will be represented by members of some of the best CTF clans out there, so expect a SLAUGHTER!
For those of you that are unable to attend, the quake servers will be online on a T1 connection! Add the GibFest QW Master to Gamespy to join in the fun.
Start Gamespy. Select VIEW, then MASTER SERVER, then ADD. IP address is 207.106.135.5 port 27000
Thank you
I Just wanted to thank Global Online Services for being the new hosts of NJ Quake. Updates SHOULD happen a little faster now.
I also would like to thank Castle Network again for supplying us with the Q2 point release mirror site within minutes of it's release
- Mopar

Thursday, February 19, 1998
QuakeII Point Release and CTF!!
The point release is finally here. With it comes the DM levels and co-op play. Hot on it's heels is the official Quake II CTF version. Get them both fast at castle.net's NJ mirror site:
Point Release ftp://dragon.castle.net/q2_312.exe
Capture The Flag II ftp://dragon.castle.net/q2ctf10.exe
- Mopar

Saturday, January 17, 1998
Rocket Arena II is OuT!
Please go to the Rocket Arena page to download it. I just got done playing it and i like it alot, its most likely going to be a big hit like the first Rocket Arena was.
- NiTro

Vote for your favorite Quake!
Place your vote HERE! OR See results HERE!
- Qlurker

New Jersey Mailing List
The New Jersey Quake mailing list is now setup. If you would like to be added please go to the page and add yourself. I will be sending out a letter whenever I enough Information is compiled. If you want something to be added to the next letter sent out please email list@njquake.com and it will be added.
- Qlurker

Saturday, January 3, 1998
Bot for IRC channel
Thanks to Ace from Castle.Net for supplying us with a bot for our IRC channel.
Surf-Board puts up Quake servers
Eric from surf-board.com wanted some advertisement for his two Quake servers in Cherry Hill, NJ. 207.8.160.20 will be up 24 hours a day, and 207.8.160.22 will be up only at night. Another Linux machine running ThunderWalker could be coming soon. Try them out.
- Qlurker

---
© 1997-1998 New Jersey Quake Group
Questions about the New Jersey Quake Group email Qlurker